Chapter One
A Garden Designer is always excited by the prospect of a new project, the design process is a wonderful creative exercise, the build process is putting what is on paper into reality, watching a drawing come to life. So what can be more exciting than watching your very own garden rise out of the mud day by day. Over the next few weeks I am going to reveal the destruction and recreation of my very own garden, the thoughts behind the design, and the process undergone to create the finished product.
In the beginning
I have lived in my current house for more years than I care to mention, 10 long years before I was a garden designer, and the garden has had no hard landscaping done to it, except to build a rustic pergola over an old shed base, the beds were created with the help of my parents and the planting has been an organic process, changing over the years as the mood took me or the need arose. Plants die, need moving, get too big for the space or just go out of favour.
I hated the shady grey crazy paving patio and it's matching path cutting the garden in two, and as a north west facing garden there wasn't a patio to sit in the sun. And there was a useless patch of grass at the side of the house. But all in all it was a green, fairly pleasant and functional space, but let's face it, it wouldn't win any prizes.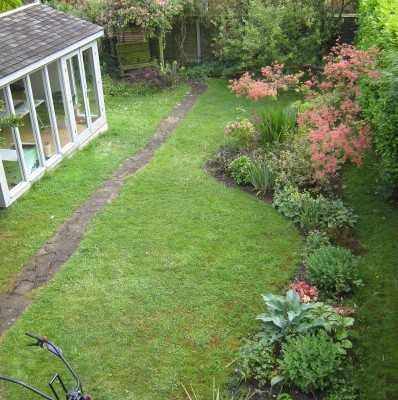 Before work began I had to move as many plants as possible into a nursery bed I had created in the front garden, some shrubs had to remain as moving them in summer would have been too much, others were going to have to go altogether, whilst some were able to remain where they were and survive the mass clearout.
The brief 
We have a NE facing garden, with a little used shady patio at the back door, and no sunny space to sit and enjoy the evening sun, we also needed a practical space at the side of the house for the practical side of my garden design business, that could be kept clear of any entertaining spaces. We also needed a step up into our new garden office. I wanted more planting space to add more year round colour to the garden.
New Plan