Last year some clients asked for my help to brighten up a dark corner of their garden. The problem was a very large Conifer and a Yew tree casting shade over the end of the garden, both of which they wanted to keep. In their words 'Nothing would grow there', the grass and cultivated plants they had tried to grow were suffering due to lack of light and moisture. Weeds however were having a merry old-time so I knew that where weeds grow other things can do too.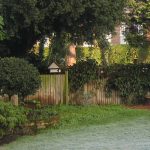 The client brief was to create some hard landscaping in the area, but to create something different and fun to draw the eye down to the end of the garden and to turn an unused area into a useful space. My clients particularly like Italian statues, and classical features, and were willing to have some fun. After some time working on the project with the clients we began discussing the idea of creating a Folly.  Having seen Redwood Stone's  fabulous folly's at garden shows, I took their brochure to my client, and they loved the idea of having a little piece of crumbling abbey in their garden.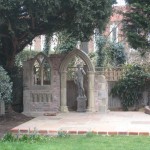 The beauty of Redwood stone folly's is they come in kit form, and your own contractor can build it. So now, my clients have a brand new, and exciting WOW factor at the end of their garden that they are thrilled with, all it needs now, is for me to finish planting around it with some woodland plants that will survive the dark conditions. (more of this in another blog)
Thank you to a lovely client, it was a great project to work on, and I can't wait until it looks all weathered and worn in.