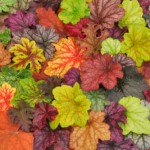 Heucheras are evergreen clump forming perennials that can be used for borders, containers, ground cover and even hanging baskets, cultivated over many years, to produce many varieties of leaf colour and shape, their leaves come in an amazing range of colours from the deepest of greens and purples to the brightest of pinks and oranges.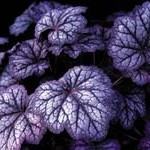 I use Heuchera a lot in borders, sunny borders as colourful ground cover planting to compliment or contrast with other plants and flowers in the border, orange colours are great in a hot colour border, and the purples and green good for cooler palates, the lighter greens and limes are a great contrast for other foliage and strong coloured flowers.
Heuchera have plume-like flowers high above their crowns, the flowers are often cream or pink and on occasion red, but I use Heuchera for their foliage.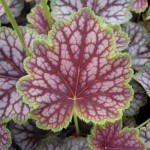 They are a member of the saxifrage family and is therefore closely related to Bergenias and Astillbe.  Other closely related plants are Tiarellas; which are shade loving and more hardy than Heuchera, they also often have interesting variegated leaves and a bushier clump of flowers. A cross between Heuchera and Tiarella is the Heucherella, having the hardiness for shade and a great variety of coloured leaves.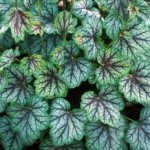 Heucheras are easy plants to grow, they benefit from a light trimin spring and again in August, which allows new foliage to grow, giving you a good show again for autumn and winter. They enjoy partial shade; some enjoy full sun, and some full shade. They grow best in moist but well drained soil and can tolerate short periods of dry soil.
Although Heucheras can be relatively pest and disease free, they can get a rust which is specific to them, the rust will not spread to other plants in the garden which is good,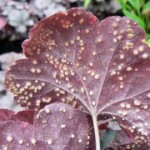 however it can be bad news for your Heuchera. How to spot Heuchera Rust – Puccinia Heucherae; one of the first signs is dimples on the surface of the leaf. Turn over the leaf and you may see white, orange or brown raised spots. These rust spots cannot be picked off as they bond with the leaf. If you find any spots like this act immediately, the best way is to cut off all the affected leaves, cutting them down to the crown will result in the best attempt to get rid of the rust completely. Sometimes it is easy to miss an affected leaf and therefore might be easier to completely defoliate.