The  Hard Landscaping
My design for the garden had 3 areas of patio that needed to be laid, we wanted a nice generous step outside the office, a dining space in our sunny spot at the end of the garden and a new shaped smaller patio at the back of the house, that complimented the curvy shape of the new plan.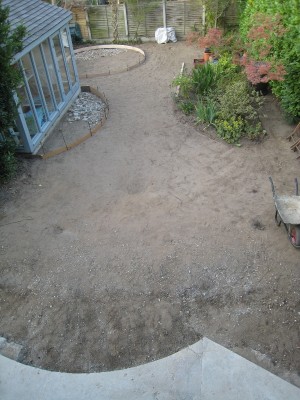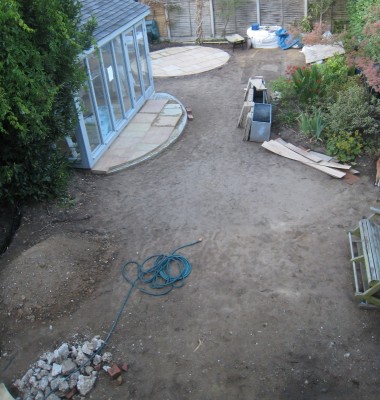 Our contractor David, used wood ply and pins to create the shapes for the new patios and cut out the new shape from the concrete base that was under our old rectangular patio. Hard core was used to build up the base of the new patios before our chosen slabs; Indian sandstone in a warm Camel Buff, were laid on a full bed of mortar.
Finally David laid a piece of string from the top of our slope at the house to the new circular patio at the bottom and used this guide to give us the height for each step, as they gradually take you from the house to the office and then on to the dining area. All paving was edged in handmade red clay pavers, which tone with our house brick, but are much more resistant to damp, and with a softer edge, so perfect for the garden we are trying to achieve.
Once the hard landscaping was finished we imported tonnes of top soil to bring up the levels of soil to meet the paving levels, ready for the turf to be laid.